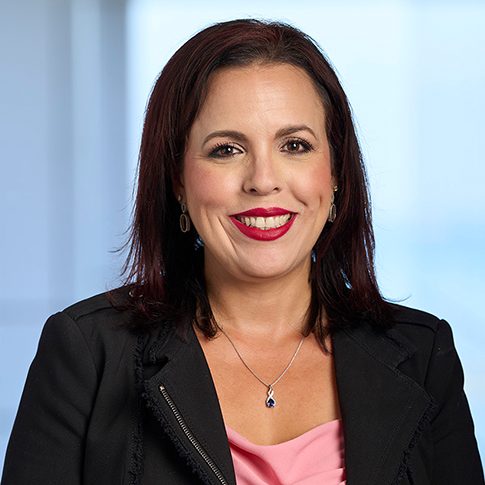 Heather M. Barnes
Position

Partner

Locations
Heather Barnes is a registered patent attorney focusing on intellectual property matters, including the domestic and international prosecution of patents, trademarks, and copyrights.
Heather values learning every client's business to align their intellectual property strategy with tactical business goals. Her undergraduate degree in mechanical engineering allows her to both understand clients' technology and clearly communicate to all parties the best strategy for protecting it. Her management of intellectual property portfolios helps clients move projects forward and properly allocate financial resources.
Heather manages extensive domestic and international patent and trademark portfolios, assists in-house counsel with strategic decisions, and provides analysis for risk assessment on pre-litigation issues. She also routinely provides intellectual property advice for corporate transactions, including mergers and acquisitions, license agreements, intellectual property policies, and joint development agreements. As a result of her involvement in the start-up community, Heather works with independent entrepreneurs and corporate clients seeking alternative revenue streams by shepherding new innovations from conception to commercialization.
Heather is a soccer mom to three children. She and her husband Jerry love spending time with their kids, family, and friends and especially enjoy hiking in Cuyahoga Valley National Park and the Cleveland Metroparks.
Education

Ohio Northern University Pettit College of Law (J.D., with distinction, 1999); Law Review, Managing Editor; Editor's Award; The Willis Society (Top 10%); Phi Kappa Phi (Top 10%); National Association of Women Lawyers, Outstanding Law Student Award
The University of Akron (B.S.M.E., 1996)
State Admissions

Ohio, 1999
Federal Admissions

United States Patent and Trademark Office
United States District Court, Northern District of Ohio
Represented a consumer products company in its domestic and foreign intellectual property matters – including procurement of patents and trademarks, freedom to operate opinions, license agreements, model releases, and enforcement of intellectual property rights – for exercise equipment and other home goods sold through ecommerce websites and infomercials
Conducted a seizure of counterfeit goods with U.S. Marshals in Compton, California, in a case against an importer seizing hundreds of counterfeit fitness products
Developed global intellectual property strategy for a manufacturing company to ensure new products were protected quickly in foreign markets and in the United States
Initiated an intellectual property program for capturing and protecting innovation for a university located in Ohio
Speaking Engagements
"Mid-Career Motivation: How to Stay Engaged and Inventive in the Ever-Changing Legal Profession Workshop," INTA 2022 Leadership Meeting, Miami, Florida (November 2022)
"Careers in Intellectual Property Law," Cleveland-Marshall College of Law, Cleveland, Ohio (November 2022)
"Corporate IP Management Roundtable: KPI's for Effective Corporate IP Management and Operations," Moderator (August 2022)
"Survey of Trademark Laws and Updates Around the World," 23rd Annual Symposium on Intellectual Property Law & Policy, The University of Akron (March 2021)
"Trademarks, the Trademark Modernization Act, and a Day In the Life of an IP Attorney," Case Western Reserve University School of Law, Student Intellectual Property Law Association (March 2021)
 "Inquire! Innovate! Invent!", The University of Akron (November 2020)
"Damages, Generic Terms, and Counterfeiting: What Has 2020 Brought So Far, and What Is Yet to Come," Trademark SLG Spotlight Call, DRI's IP Litigation Committee (June 2020)
"Between the Lines IP: Best Practices for Enforcing and Protecting IP Rights in Online Marketplaces, Industry Bodies, Contracts, and Other Alternate Venues," 22nd Annual Symposium on Intellectual Property Law & Policy, The University of Akron School of Law, Akron, Ohio (March 2020)
"I & E Committee Stories," Innovation and Entrepreneurship Day, Leadership Akron, Akron, Ohio (November 2019)
"Intellectual Property Rights and Mechanical Engineering Considerations in View of the US-China Trade Tension," Conference for IP Managers of Foreign-Related Enterprises, Guangzhou, China (October 2019)
"Avoid the IP Landmines in Corporate Transactions," Cleveland Intellectual Property Law Association, Cleveland, Ohio (April 2019)
"Protecting Your Innovation from A to Z," 2018 In-House Counsel Summit, Tucker Ellis LLP, Cleveland, Ohio (October 2018)
"Protecting Your Ideas," Flight, Launch League, Akron, Ohio (December 2016)
"Copyright Basics," Akron Public Library, Akron, Ohio (September 2016)
"Trademark Issues that Affect Every Business Owner," Steubenville Bar Association, Steubenville, Ohio (August 2009)
"Networking – Making Relationships Click," "I Am Woman Hear Me Roar – Making Your Voice Heard," and "Making a Difference in Your Community," The Ohio Conference for Women, Cincinnati, Ohio (May 2009)
"How to Search Like a Pro: Strategies for Legal Research on the Web," National Business Institute, Akron, Ohio (May 2009)
"Strategies for Professional Success," Ohio Diversity Council Conference, Columbus, Ohio (November 2008)
"Patent, Trademark and Copyright Basics for Entrepreneurs," Ashland University, Ashland, Ohio (September 2007)
"Basic Intellectual Property Strategies Project Bootstraps," Jefferson Community College, Steubenville, Ohio (April 2006)
Publications
"Mid-Career Motivation: How to Keep Going When Life Happens," Cleveland Metropolitan Bar Journal (April 2023)
"Hermès Prevails Against Artist in First NFT Trademark Case Decided by Federal Jury," IPO Daily News (February 2023)
"Luxury Brand Hermès Wins in First NFT Trademark Decision: Artist's 'MetaBirkins' NFTs Infringe and Dilute Hermès Trademarks," Tucker Ellis Client Alert (February 2023)
"Trademark Protection in 2020: 10 Simple Things to Consider," Tucker Ellis Client Alert (January 2020)
"A Surprising Plot Twist: Why Your Offer of Free Entertainment to the Public Could Get You in Trouble," Smart Business Cleveland (April 2015)
"Intellectual Property: What Startups Need to Consider When Developing an IP Protection Strategy," Smart Business Akron/Canton (June 2014)
"Software License Audits: How to Survive a Software License Compliance Audit," Smart Business Akron/Canton (May 2013)
"Protecting Your Medical Inventions, Designs and Processes," MD News, Cleveland-Akron-Canton edition (September-October 2012)
"Perfection at the Intersection of the UCC and Federal IP Law," ABI Journal, Vol. XXXI, No. 3 (April 2012)
Media
"Protecting Your Intellectual Property Takes a Conscious Effort," Smart Business Akron/Canton (March 2013)
Ohio Super Lawyers® (2015–2020, 2022, 2023)
Ohio Super Lawyers Rising Stars® (2006, 2007, 2010–2012)
Martindale-Hubbell® AV Preeminent® Peer Rating
Top Rated Lawyer in Intellectual Property Law (ALM) (2018)
International Advisory Experts Award (2018)

Intellectual Property, Ohio

Cleveland's Legal Leaders™, Top Rated Lawyer (2013)

General Practice
Intellectual Property
Internet Law

Barbara Mathews Award, Leadership Akron (2013)
"Most Powerful & Influential Women in Ohio," Ohio Diversity Council (2008-2009)
"30 for the Future," Young Professionals Network, Greater Akron Chamber (2008)
Cleveland Intellectual Property Law Association
American Intellectual Property Law Association
Intellectual Property Owners Association

Women in IP Law Committee

Co-Vice Chair (2022, 2023)
Secretary (2021)

International Trademark Association

Professional Development Committee

Leadership Meeting Project Team, Co-Lead (2022-2023)

Ohio State Bar Association
Akron Bar Association
Akron Bar Foundation, Fellow
Leadership Akron, Class 29

Innovation and Entrepreneurship Planning Committee

Portage Path Behavioral Health, Board of Trustees

Treasurer (2022, 2023)
Marketing Committee, Chair

Green Community Leadership Initiative Design Committee
National Super Kids Classic, Board of Directors
Torchbearers

Past President and Vice President
Torchbearer College Committee, Former Chair

ArchAngels Deal Flow Committee for Entrepreneurs
Ask a Patent Attorney, Akron Public Library
University of Mount Union, Raider Tank Judge for Entrepreneurial Students