Pipeline Program
The gold standard of outreach programs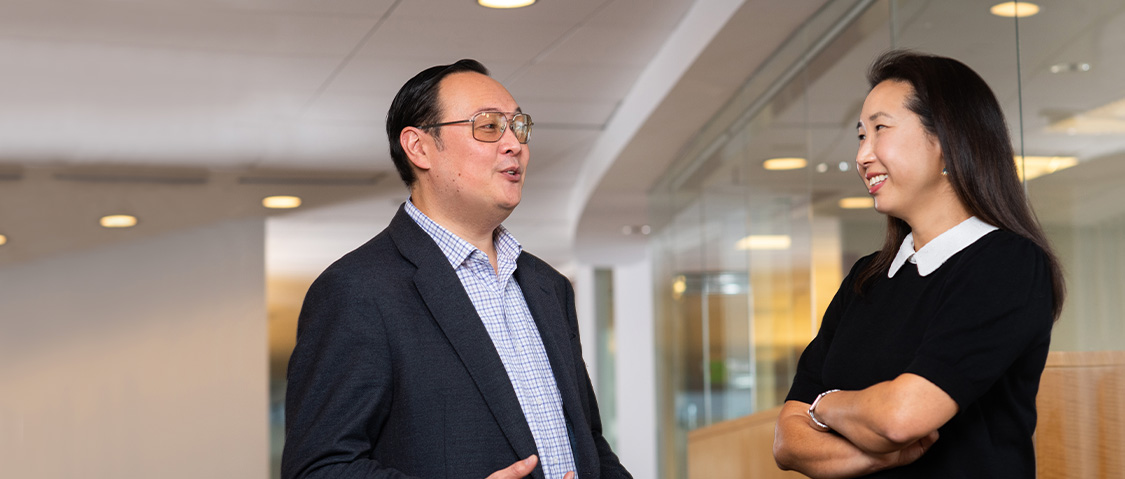 Described as the "gold standard" of equity, diversity, and inclusion outreach programs, the award-winning Tucker Ellis Pipeline Program encourages economically disadvantaged and minority students to learn about the law and pursue careers in the legal profession.
Pipeline Program
The chief architect and founder of the Tucker Ellis Pipeline Program is retired Tucker Ellis partner Carter Strang. Under Carter's leadership, our pipeline program has grown into a national model for guiding aspiring disadvantaged and minority students to careers in the law – most notably recognized in DRI Diversity Insider.
Established in 2006, the Tucker Ellis Pipeline Program was first launched in partnership with the Cleveland Metropolitan School District's Cleveland Early College (CEC) High School (aka John Hay Early College High School). It has since expanded across all Tucker Ellis Hallways and become an integral part of our firm's commitment to equity and inclusion. Our Pipeline Program started with lawyers going into the classrooms to teach, but quickly moved into bringing students into the courtroom for mock trials, coaching law students in moot court, and mentoring high school, college, and law school students through our various programs.

In the Classroom
3Rs ("Rights, Responsibilities and Realities") is an award-winning Cleveland Metropolitan Bar Association (CMBA) program that Tucker Ellis attorneys have supported since its inception almost a decade ago. 3Rs places attorneys in Cleveland and East Cleveland City Schools where they teach a law-based curriculum monthly during the school year and provide career counseling. The 3Rs curriculum was co-authored by Carter Strang, who was also the sole author of a new 2015 "Police Encounters" lesson that provides students guidelines for street, automobile, and other encounters with the police and includes a discussion of legal remedies for any alleged police misconduct. In addition to preparing students for the social studies portion of their high school exams, 3Rs is an invaluable resource that educates students in urban areas on their everyday legal rights and responsibilities.

In Los Angeles, Tucker Ellis attorneys and staff established a partnership with the Los Angeles Unified School District's Abraham Lincoln High School in 2009. As part of the partnership, Los Angeles attorneys and staff members visited Lincoln High School to educate students on general legal topics and lead interactive lessons examining timely legislative issues. At the end of the year, students participated in a mock trial in which they gave opening statements, closing arguments, and examined witnesses. The program was designed to encourage students to consider a career in the law. As a result of their efforts, the partnership received the Pillar Partnership Spotlight Award from the Los Angeles Chamber of Commerce in 2010.
Mock Trial
Tucker Ellis attorneys and staff members coach CEC students in several mock trial competitions. CEC students compete both in the yearly Cleveland Mock Trial Competition, which is organized by the Cleveland Municipal Court and open to all Cleveland Metropolitan schools, and in the Ohio High School Mock Trial Competition, which is organized by the Ohio Center for Law-Related Education and is open to all Ohio high schools. The teams coached by Tucker Ellis attorneys have won numerous championships and countless awards and recognitions for individual team members.
Junior Achievement
Tucker Ellis attorneys and staff in Cleveland and San Francisco have partnered with Junior Achievement to provide day-long workshops with students from CEC in Cleveland, and Richmond High School Law Academy and Pinole Valley High School Law & Justice Academy in San Francisco. The students are provided with career counseling and insight into the legal profession. Through the workshops, Tucker Ellis is able to expose students to the legal profession in an effort to increase equity and inclusion among our ranks.
Legal Internships and Work-Study Programs
For more than 10 years, Tucker Ellis has continuously provided legal internships and work-study opportunities to high school students in Cleveland and Los Angeles. For example, Tucker Ellis participates in the Corporate Work Study Program with Saint Martin de Porres High School, a Cristo Rey Network School in Cleveland. Cristo Rey is the largest network of urban high schools in the country enrolling only low-income youth. Their unique program allows students to invest in their education based on the school's unique relationship with the business community. Each Saint Martin student works in a job-sharing team comprised of four students. Working in a rotating schedule, each team fills a full-time equivalent job at Tucker Ellis in a standard Monday-Friday business week schedule. The program sets the tone for student behavior and expectations in the workplace and in the classroom and exposes students to the legal profession at an early age. The students' earnings are used to offset more than 50% of the cost of their high school education.
Until recently, most of the internship programs were for high school students only. Programs for college students interested in a legal career were virtually nonexistent in Cleveland – leaving a gap in the metaphorical pipeline from high school to a legal career. Carter Strang filled the gap when he created the Louis Stokes Scholars Program. During his CMBA presidency, the Louis Stokes Scholars Program was created to provide paid summer internships to college students who have expressed an interest in entering the legal profession. Since its inception, the program has received national, state, and local awards and has been recognized as an instrumental program in bridging the minority gap in the legal profession. Tucker Ellis has continued to maintain relationships with former Louis Stokes Scholars who are current law students and soon-to-be members of the legal profession.
Law School Programs
Yet another element of the Tucker Ellis Pipeline Program is our engagement with law schools in Northeast Ohio. In honor of one of our founding partners, the firm established the Robert C. Tucker Scholarship at Cleveland-Marshall College of Law. The firm provides a yearly scholarship to a Cleveland-Marshall law student who is a graduate of the Cleveland Metropolitan School District.
Tucker Ellis attorneys are also actively engaged in mentoring law students. Most notably, Tucker Ellis attorneys have counseled, mentored, and recruited students actively involved in the National Black Law Students Association chapters at Cleveland-Marshall College of Law, Case Western Reserve University School of Law, and The University of Akron School of Law. In recent years, Tucker Ellis attorneys have coached the Frederick Douglass Moot Court team at Cleveland-Marshall College of Law to both regional and national competition success.
From a recruiting perspective, Tucker Ellis has demonstrated a commitment to equity and inclusion. Tucker Ellis has actively recruited law students from the CMBA Minority Clerkship Program and the National Black Law Students Association Midwest Region Career Fair. We are proud to say that a number of our associates today were recruited directly from these programs. Currently, we also recruit from the CMBA Diversity & Inclusion Career Fair, among other resources.