Green Initiatives
Protecting our planet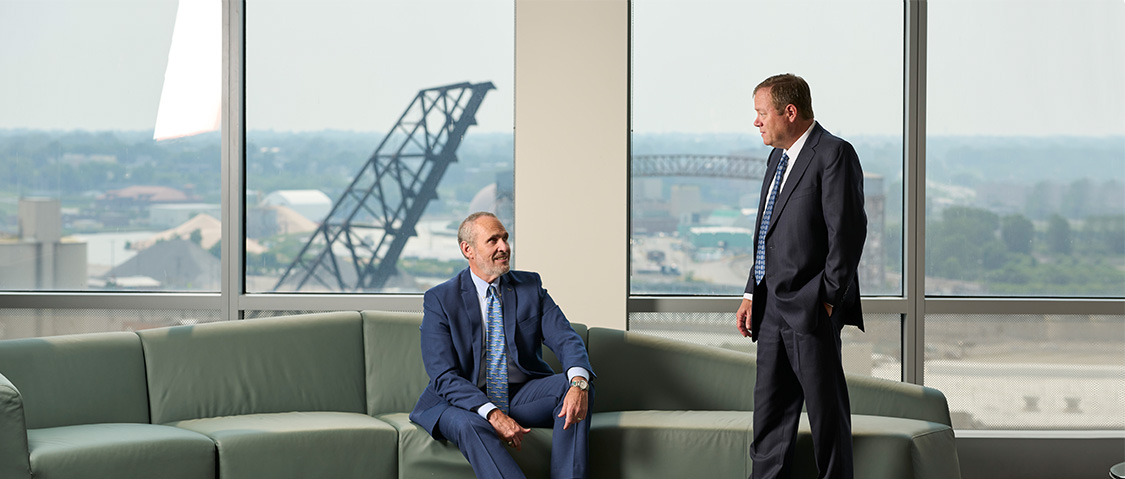 Tucker Ellis maintains a strong commitment to the environment that encompasses both eco-friendly business practices and community-oriented green initiatives. Because we believe that taking care of our planet is everyone's responsibility, we are proud to take a leading role in demonstrating how companies and employees can affect change.
Award-Winning Commitment
Long at the forefront of corporate environmental efforts, we were the first law firm in Cleveland to receive the Cleveland Metropolitan Bar Association's (CMBA) Green Certification Award. Achieving this distinction required us to quantify our success in implementing recycling programs, reducing energy and paper use, and encouraging environmental responsibility among our staff members. Our efforts were also recognized by the CMBA when it awarded us its inaugural Green+ Certification for going "above and beyond" in practicing environmental stewardship, including documented reductions in energy use. Tucker Ellis was the first firm to receive the CMBA Green Innovation Award (made by a local artist out of 100% recycled materials) for its exemplary leadership and success in promoting responsible environmental practices.
Our commitment has also been recognized on a regional level. Tucker Ellis has earned the Silver Commuter Choice Award from the Northeast Ohio Areawide Coordinating Agency (NOACA) since the award's inception in 2014. This award, the highest achieved by any law firm, acknowledges our commitment to providing – and promoting – eco-friendly commuting options to employees.
Making an Impact
Tucker Ellis is fortunate to have offices in LEED-certified buildings in which tenants play a role in maintaining this coveted distinction. Innovative ways to save energy include accommodations for daytime cleaning services that decrease the need for lighting and electricity in the evening hours, a robust recycling program, and encouraging staff members to reduce their use of disposable paper products by providing a dishwasher for plates, glassware and silverware.
We periodically review our food/beverage areas to evaluate what environmentally friendly practices we can adopt. In early 2018 we required our coffee vendors to replace plastic coffee stirrers with compostable wooden versions. We also provide reusable coffee mugs in our kitchens and conference rooms in order to reduce the amount of waste generated.
The firm and its personnel also participated in and supported a number of cycling activities to reduce our carbon footprint, including Cleveland's "Bike to Work Day" and the 150-mile "Pedal to the Point" ride (Cleveland to Sandusky and back) organized by the Tucker Ellis "Wheelers" Bicycle Club that also raised money to fight MS. Several of the firm's personnel regularly commute to work via bicycle, which was a factor in the firm's receipt of the Commuter Choice Award. Many of the firm's personnel also commute by mass transit.
Recognized Leadership
Tucker Ellis Partner Carter Strang, who practices energy and environmental law at the firm, is known for his proactive, real-world approach to green issues. Carter originated the CMBA Green Initiative and served as the first CMBA Green Initiative Chair, and was honored with CMBA's 2017 Green Sustainability Award in recognition of his effort. Carter is the author of "Greening Your Legal Practice," an article that outlined practical steps to responsible environmental stewardship. Published in several national journals, the article also formed the basis for his presentation on the topic at the 2014 CMBA Environmental Law Seminar.
Partner Tod Northman joined the firm in 2011 from Oregon, and has worked to promote green initiatives at the firm since arriving. He has chaired the firm's efforts since 2014 and was chair of the CMBA Green Initiative from 2016-2018.
Associate Christina Suh also brings her energy and passion to the firm's "green" efforts.