Mock Trial
Coaching high school students to success in mock trial
Our attorneys coach students from Cleveland Early College (CEC) High School in the yearly Cleveland Mock Trial Competition.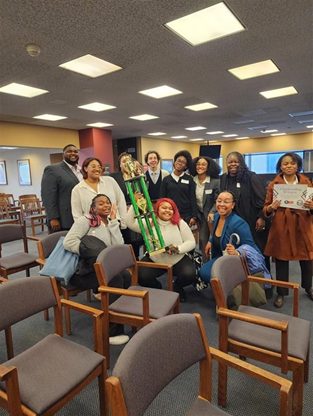 Organized by the Cleveland Municipal Court and CMBA and open to all Cleveland Metropolitan Schools, the Cleveland Mock Trial Competition is an excellent resource for high school students interested in pursuing careers in the law.
For the competition, teams take turns representing the prosecution and defense in a criminal appeal, giving students the opportunity both to hone their legal skills and to learn more about important issues facing teens today – including the opioid crisis, police encounters, charges of hazing, driving while texting, bullying, misdemeanor child endangerment, and criminal stalking. Top competitors are rewarded with paid summer internships at the Cleveland Municipal Court.
Over the years, our teams have won numerous championships, as well as awards for individual team members. In the April 2023 competition, our CEC team won first place, along with individual awards for Outstanding Attorney for the Prosecution, Outstanding Witness for the Prosecution, and Outstanding Witness for the Defense, as well as Best Overall Prosecuting Attorney for the entire competition.
Key Contacts
Position

Counsel

Locations