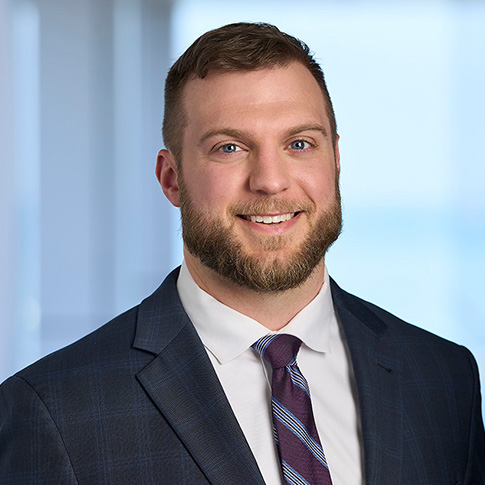 Nathan P. Nasrallah
Position

Counsel

Locations
Nathan Nasrallah represents clients in complex civil litigation matters as a member of the Tucker Ellis Health & Life Sciences Group.
Nate is a problem solver who specializes in developing case-specific strategies to position clients for success at each phase of the litigation process, from discovery and dispositive motion practice to trial and appeals. Nate applies his results-driven approach to a wide variety of practice areas, including medical device and pharmaceutical liability, commercial litigation and business disputes, class actions and multidistrict litigation, white collar crimes, and government regulations.
Nate is a former judicial law clerk to Judge Solomon Oliver, Jr. of the U.S. District Court for the Northern District of Ohio and a former judicial extern to Judge Karen Nelson Moore of the U.S. Court of Appeals for the Sixth Circuit. Drawing on those experiences, Nate identifies and focuses on the unique issues and facts that are best-suited to persuade judges.
As a former co-captain and academic All-American for his university's football team, Nate brings grit, blue-collar work ethic, and leadership to each and every case.
Outside of work, Nate is a passionate Cleveland sports fan, and he enjoys hiking and camping with his wife, Ginny, and their dog, Griffey.
Education

Case Western Reserve University School of Law (J.D., magna cum laude, 2016); Order of the Coif; Case Western Law Review, Contributing Editor; Honor Court, Student Representative
Capital University (B.A., summa cum laude, 2013); Outstanding Senior Thesis Award; Rev. John W. Mattern Alumni Award (2013); Capital University Football, Co-Captain (2012); COSIDA Academic All-American (2012)
State Admissions

Ohio, 2017
Federal Admissions

United States Court of Appeals, Sixth Circuit
United States District Court, Northern District of Ohio
Assisted in obtaining a successful resolution for a Fortune 200 manufacturer and retailer of industrial and consumer products in a federal criminal antitrust investigation
Assisted in obtaining a dismissal of a complaint in federal district court on behalf of a transportation and logistics company
Assisted in drafting and filing an amicus curiae brief in the United States Supreme Court, regarding an issue of statutory interpretation, on behalf of a United States Senator
Assisted in drafting and filing a petition for writ of certiorari in the United States Supreme Court, regarding a circuit split, on behalf of an indigent criminal defendant
speaking engagements
"Inside Advice Panel: Hear From the Experts on Mastering Your OCI Interviewing Skills," Case Western Reserve University School of Law, Cleveland, Ohio (July 2022)
"Whether Disciplining Medical Professionals for Disseminating COVID-19 Misinformation Can Violate the First Amendment," 2022 National Council of State Boards of Nursing Midyear Meeting (March 2022)
publications
"Why Social Media Companies Cannot Violate the First Amendment," Inter Alia, Federal Bar Association, Northern District of Ohio Chapter (Fall 2021)
"Objecting to a Rule 30(b) Deposition Notice," American Bar Association, Section of Litigation, Mass Torts Litigation (November 2021)
"COVID-19 and Ivermectin Lawsuits," American Bar Association, Section of Litigation, Mass Torts Litigation (October 2021)
"Clash of American Ideals: Incitement and the First Amendment," Federal Bar Association, Northern District of Ohio Chapter (Winter 2021)
Comment, "The Wall that AEDPA Built: Revisiting the Suspension Clause Challenge to the Antiterrorism and Effective Death Penalty Act," Case Western Reserve Law Review, Volume 66
Note, "Preventing Conflict or Descending an Iron Curtain? Buffer Zone Laws and Balancing Histories of Disruption with Free Speech," Case Western Reserve Law Review, Volume 66
Cleveland Metropolitan Bar Association
Federal Bar Association
Ohio State Bar Association
American Constitution Society