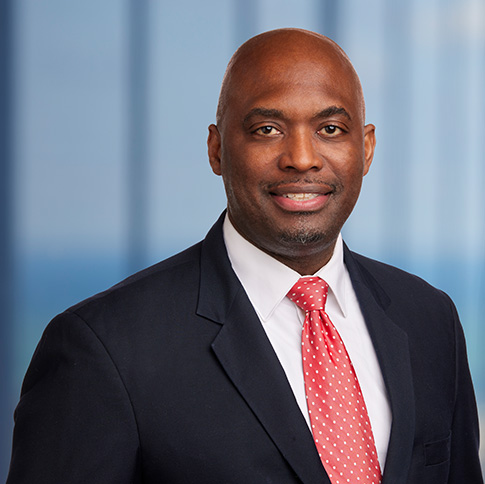 Jason J. Ben
Position

Counsel

Locations
Jason Ben provides strong advocacy and innovative solutions to clients involved in complex U.S. and international financial restructurings and insolvencies.
With nearly two decades of experience, Jason offers strategic and practical advice to companies, boards of directors, and sponsors facing financial challenges to their organizations. His experience includes representing both corporate debtors and secured lenders in chapter 11 and out-of-court restructurings. He regularly counsels consulting firms, hedge funds, mortgage finance companies, construction companies, and other corporate concerns in credit risk mitigation, restructurings, and workouts, and manages the documentation and negotiation of various contract and lending matters.
Jason also represents purchasers of distressed assets under Section 363 of the Bankruptcy Code, as well as landlords, suppliers, and other unsecured creditors in a variety of transactional and litigation-related aspects of the debtor-creditor relationship.
Education

Southern University Law Center (J.D., magna cum laude, 2003)
Southern University and A&M College (B.S., cum laude, 1999)
State Admissions

Illinois, 2003
New York, 2008
Federal Admissions

Supreme Court of the United States
United States Court of Appeals, Sixth Circuit
United States Court of Appeals, Seventh Circuit
United States District Court, Northern District of Illinois
United States District Court, Eastern District of Michigan
United States District Court, Eastern District of New York
United States District Court, Southern District of New York
Service Areas
Industries Represented

Financial Institutions
Real Estate
Automotive
Successfully argued before the 7th Circuit in representing an Irish receiver in proceedings now pending before the United States Supreme Court in resolving a multimillion-dollar turnover demand
Represented a mortgage finance company in resolving multimillion-dollar demand related to complex swap transaction with an insolvent counterparty
Represented a specialty asset manager in documentation of billions of dollars in secondary loan trading for over 10 years
Represented a third-party fund administration company in documentation and negotiation of administrative and successor roles under million-dollar agented loan documents
Represented a Chicago-based hedge fund in the documentation of a wide range of vendor contract negotiations
Represented a global management consulting firm in the negotiation of a consulting agreement with a chapter 11 debtor
Represented a London-based hedge fund in turnover litigation involving massive Ponzi scheme in the U.S. Bankruptcy Court for the Southern District of New York
Represented several hedge funds in all aspects of the secondary loan trading market and the documentation of secondary trades on the standard terms and conditions promulgated by the Loan Syndication and Trading Association, Inc.
Represented the purchaser of a major grocery chain proceeding in chapter 11
Represented a property-level lender in a multibillion-dollar real estate company bankruptcy proceeding in the U.S. Bankruptcy Court for the Southern District of New York
Represented a group of mezzanine lenders in the successful workout of approximately $600 million in debt that resulted in lenders receiving payment in full
Represented a hedge fund in the purchase of a large condominium development in Orlando, Florida, out of a pending bankruptcy proceeding
Represented a secured lender in the U.S. Bankruptcy Court for the Central District of California
Represented a joint venture development company in chapter 11 proceedings in the U.S. Bankruptcy Courts for the Central District of California and the Northern District of Illinois
Represented an indenture trustee in the failed insolvencies of several bank holding companies
Represented an indenture trustee in chapter 11 proceedings in the U.S. Bankruptcy Court for the Southern District of New York
Represented a Tier-1 automotive supplier that commenced parallel cross-border insolvency proceedings in the U.S. Bankruptcy Court for the District of Delaware and the United Kingdom
Represented a Tier-1 automotive supplier in its chapter 11 proceedings in the U.S. Bankruptcy Court for the District of Delaware
Represented a senior debt syndicate owed an over $300 million claim in the separate chapter 11 proceedings of related automotive suppliers in the U.S. Bankruptcy Court for the Eastern District of Michigan
Represented a billion-dollar car rental company in its cross-border restructuring in the United States and the United Kingdom that resulted in the sale of substantially all of the assets of the company
Chambers USA

Bankruptcy/Restructuring (Illinois) (2023)
National Association of Realtors
Chicago Association of Realtors