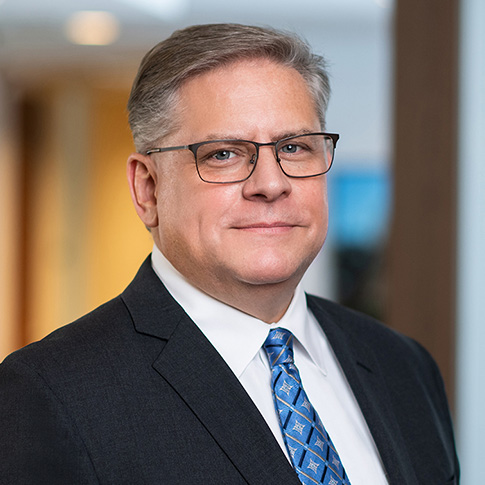 Anthony D. Brosamle
Position

Partner

Locations
Tony Brosamle is a member of the Tucker Ellis Trial Department and represents business clients in the areas of product liability and other personal injury litigation, construction defect litigation, commercial litigation, consumer class action, and employment litigation and counseling.
Product Liability and Other Personal Injury Litigation. Tony is a senior litigator and trial counsel in the Mass Tort & Product Liability practice group. Tony specializes in areas of toxic tort and asbestos litigation, representing clients in the flow control, industrial electrical control, HVAC-Refrigeration, and personal protective equipment industries. Tony represents manufacturers in the defense of product liability claims alleging wrongful death and/or catastrophic injuries. He also has represented manufacturers of fire-safety equipment, multipurpose lighters and other flame-producing devices, complex scaffolding, industrial electrical equipment, cement pump equipment, exercise equipment, elevators and escalators, confectionery equipment, heavy construction equipment, and cranes. He has represented clients before federal regulatory agencies, including the United States Environmental Protection Agency and the United States Consumer Product Safety Commission (CPSC). Tony's experience with the CPSC includes negotiations with compliance personnel in response to CPSC Letters of Advice and advocating for clients during CPSC review of product-testing compliance submissions.
Construction Defect Litigation. Tony regularly represents construction subcontractors and building supply manufacturers and distributors in pre-litigation warranty disputes and construction defect claims. He has defended clients in single-home and multi-project class-action litigation, and has also negotiated unique pre-litigation work and repair agreements.
Complex Commercial Litigation and Consumer Class Action. Tony has extensive experience representing clients in complex commercial litigation, including class actions and unfair business practice claims. He has represented financial institutions, advertisers, grocery operators, medical device suppliers, and television and motion picture production companies.
Employment Litigation and Counseling. Tony has more than a decade of experience representing and counseling employers in an array of industries, including financial services, retail clothing, telecommunications, home repair and improvement, casino, industrial equipment, automobile service, and retail food. He has defended employers of all sizes in employment investigations and litigation matters before state and federal courts and agencies. His employment litigation practice areas include wage and hour class actions and single-plaintiff claims involving alleged wrongful termination, sexual harassment, employment discrimination, and unpaid wages. Given his litigation experience and background, Tony has served the important needs of clients with respect to practical and risk preventative employment counseling. Tony provides counseling to employers on a wide variety of employment-related issues, including compliance with California and federal wage and hour laws, anti-discrimination and anti-harassment laws, mandatory leave laws, record-keeping requirements, vacation requirements, and other human resources practices. His work with California employers of all sizes provides him with the skills and experience necessary to meet client needs in the most timely and cost-effective manner.
Education

Loyola Law School, Los Angeles (J.D., 2000); Scott Moot Honors Board; Hobbs Trial Advocacy Program
California State University, Northridge (B.A., 1991)
State Admissions

California, 2000
Federal Admissions

United States Court of Appeals, Ninth Circuit
United States District Court, Central District of California
United States District Court, Eastern District of California
United States District Court, Northern District of California
United States District Court, Southern District of California
Service Areas
Industries Represented

Chemical
Consumer Products
Electrical Equipment
Fitness Facilities
Food Manufacturing
Furniture
Insurance Carriers
Machinery Manufacturing
Retail Stores
Transportation Equipment
Truck
Waste Management
Speaking Engagements
"Surviving an Active Shooter Event," Town Hall Forum, WHNC Public Safety & Preparedness Committee, Los Angeles, California (February 2018)
"Truth or Rumor? Perception and Reality of Crime in the West San Fernando Valley," Moderator, Community Forum, Los Angeles, California (October 2017)
"Dazed and Confused? Navigating the Evolving Legalized Marijuana Landscape," Moderator, 2015 In-House Counsel Summit, Tucker Ellis LLP, Cleveland, Ohio (October 2015)
Southern California Super Lawyers® Rising Stars (2008-2010)
Defense Research Institute (DRI)
Los Angeles County Bar Association – Litigation Section
3rd Degree – Knights of Columbus
LAPD Community Police Advisory Board
West Hills Neighborhood Council, Board of Directors