Firm News
Tucker Ellis Hosts NSMBA 6th Annual Law Student Summit for Success
September 2021
Firm News
Tucker Ellis Hosts NSMBA 6th Annual Law Student Summit for Success
September 2021
On September 25, the Tucker Ellis Equity & Inclusion Committee sponsored the Norman S. Minor Bar Association's (NSMBA) 6th Annual Law Student Summit for Success. Tucker Ellis has proudly sponsored all of NSMBA's annual summits since the inaugural program in 2016.
Open to all Northeast Ohio law students, the summit featured panel discussions by legal professionals who shared their knowledge, experiences, and wisdom on how best to navigate law school and prepare for a career in law. Three informative sessions – "ABCs of Law School," "Mentors vs. Sponsors," and "411 on Legal Careers" – were designed to help Black and minority law students navigate the muddy waters of law school and the legal profession. Students also had the opportunity to sign up for NSMBA's Citywide Mentoring Program. 
The summit was co-chaired by NSMBA's Delante Spencer Thomas, Ludgy LaRochelle, and Sanford E. Watson. Also contributing to the success of the event were DeAngelo LaVette, who moderated a panel discussion, and panelists Sarena Holder and Jasmine Taylor.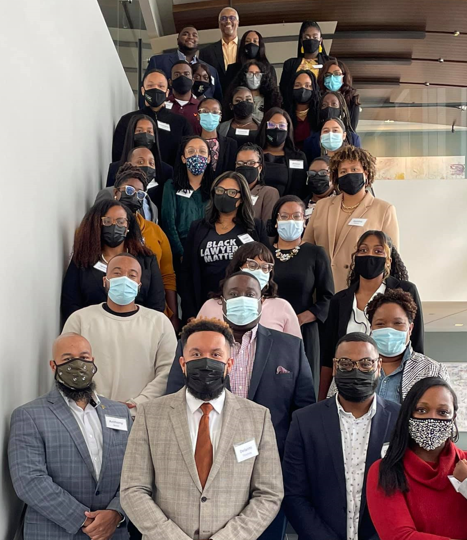 Pictured above: Participants of the NSMBA Sixth Annual Law Student Summit held September 24, 2021 at Tucker Ellis in Cleveland.