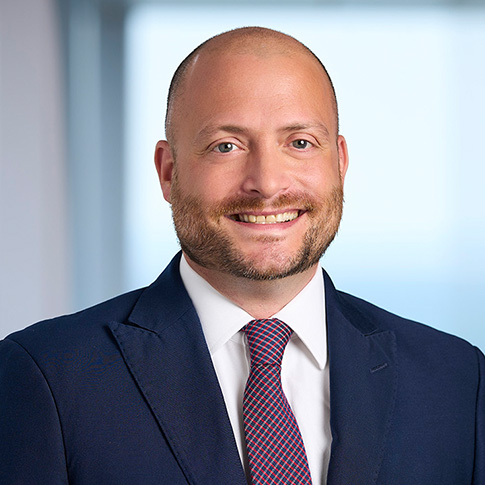 Anthony R. Vacanti
Position

Partner

Locations
Tony Vacanti counsels property owners, tenants, developers, and investors through the complicated and sometimes political maze of land use, zoning, eminent domain, real property tax, and real estate transactional matters.
Tony secures development approval and rights in administrative and court proceedings, including approvals before boards of zoning appeals, planning commissions, city councils, boards of township trustees, county and state commissions, and the court system. He also defends property owners and other interested parties when faced with the governmental exercise of eminent domain to ensure the governmental actions are proper and that interested parties receive just compensation.
Tony's thorough understanding of the nuances in real property valuation allows him to provide clients with substantial real property tax savings in proceedings before local boards of revision, boards of tax appeals, and courts. Additionally, he is able to proactively protect clients in negotiating real estate transactions, including the leasing, acquisition, and sale of real estate; drafting complex real estate documents; and, given his experience in property disputes, addressing title and other due diligence matters.
An avid outdoorsman, backpacker, and hiker, Tony has backpacked/hiked Glacier National Park (Montana), Beartooth Mountains (Montana), Grand Teton National Park (Wyoming), Yellowstone National Park (Wyoming), Acadia National Park (Maine), Joshua Tree National Park (California), Shenandoah National Park (Virginia), Smoky Mountain National Park (Tennessee), Allegheny National Forest (Pennsylvania), Rocky Mountain National Park (Colorado), Eagles Nest Wilderness Area (Colorado), Arapaho National Forest (Colorado), and Cuyahoga Valley National Park (Ohio). Tony and his wife, Michelle, live in North Royalton, where he continues to lose his hair while helping to create a semblance of order in a house full of five boys.
Education

Case Western Reserve University School of Law (J.D., magna cum laude, 2006); Case Law Leadership Award; Order of the Coif; National Moot Court Team
American University (B.A., 2002); A.B. and L.M. Harris Philosphy Award; Delta Chi Fraternity
State Admissions

Ohio, 2006
Federal Admissions

United States Court of Appeals, Sixth Circuit
United States District Court, Northern District of Ohio
Defended a retail center owner in an eminent domain jury trial resulting in a settlement valued at almost $1 million in additional compensation and engineering changes that allowed the continued use of the center
Represented a telecommunications company in obtaining complicated land use, zoning, and development approvals for telecommunications towers
Succesfully obtained land use approvals on behalf of a buyer in relation to the $52 million-dollar acquisition of a data center
Represented a large non-profit organization in the creation and acquisition of a new downtown commercial condiminum development
Represented a shopping center owner in defending an eminent domain action instituted by a city resulting in a settlement valued at over $10 million
Successfully defended an action filed by a school district against a hotel client seeking to increase real property tax value in excess of $10 million
Negotiated the sale and acquisition of a large organization's headquarters
Successfully obtained a complicated real property tax exemption on behalf of a museum
Obtained a favorable ruling from the Ohio Board of Tax Appeals on a contested tax exemption matter on behalf of a non-profit camp
Represented a property owner in litigation over township zoning applied to hundreds of acres of land, which resulted in a settlement of favorable zoning and substantially increasing the value and developablility of the property for a residential subdivision
speaking engagements
"Overcoming Real Estate Land Use and Environmental Challenges," NBI Seminar (December 2022)
"Applications and Approval Procedures: Variances, Conditional Use Permits, and More," Land Use and Zoning: From Application to Appeal, NBI Seminar (October 2021)
"Restoring Law and Order in the Wild West of Board of Zoning Appeals Hearings: Using Best Practices to Balance Private Property Rights and Public Interest," Ohio Prosecuting Attorneys Association (June 2021)
"Land Use and Zoning: From Application to Appeal," National Business Institute Webinar (February 2021)
"Your Paycheck Protection Program Forgiveness Was Denied – Now What?", Panelist, 2020 In-House Counsel Summit Webinar, Tucker Ellis LLP (December 2020)
"Eminent Domain: Appraisals and Just Compensation," National Business Institute Live Video Webinar (September 2020)
"Challenging or Appealing an Administrative Zoning Decision," National Business Institute Webcast Seminar (May 2020)
"Ethics in Zoning and Land Use Law," National Business Institute Webcast Seminar (May 2020)
"Walking the Tightrope: Ethics Dilemmas Encountered by In-House Counsel and How to Manage Them," Moderator, 2019 In-House Counsel Summit, Tucker Ellis LLP, Cleveland, Ohio (November 2019)
"Challenging/Defending the Constitutionality of Zoning and Land Use Actions," Land Use and Zoning from Start to Finish, National Business Institute (NBI), Independence, Ohio (August 2019)
publications
media quotes
The Best Lawyers in America® (2021–2023)
Ohio Super Lawyers Rising Stars® (2009–2013)
Habitat for Humanity of Summit County, Inc., Board of Directors
Cleveland Kids in Need Resource Center, Former President and Trustee
Hudson Montessori School, Former Trustee
International Council of Shopping Centers
Urban Land Institute
American Bar Association
Ohio State Bar Association
Cleveland Metropolitan Bar Association
Akron Bar Association
The Honorable William K. Thomas American Inn of Court, Barrister