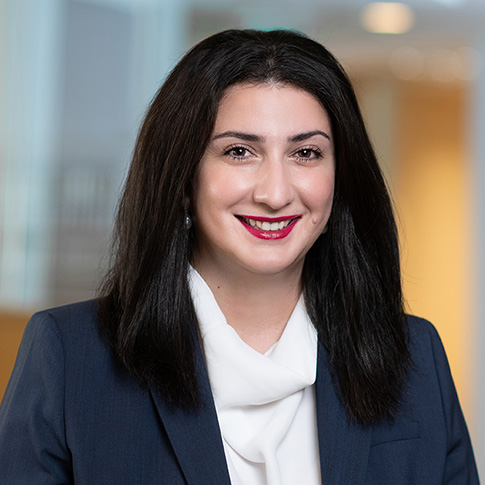 Maia Mdinaradze
Position

Counsel

Locations
Maia Mdinaradze handles all aspects of civil litigation in state and federal courts, with a particular emphasis on business litigation, employment, and insurance coverage.
Maia also has significant experience representing clients in high-exposure commercial property, commercial general liability, title insurance coverage, and bad faith matters.
With a keen sense of intellectual curiosity and trial-focused litigation strategy, Maia helps clients successfully navigate complex commercial matters, achieving highly favorable results.
Having lived in three different countries, no challenge is too big for Maia. Armed with resilience, creativity, and an expanded world view, she brings a unique perspective, crafting innovative solutions and helping clients achieve their business goals in and out of courts.
Maia is passionate about traveling, exploring other cultures, and trying new foods. She enjoys boating, long walks on the beach, and hikes with her husband and two daughters.
Education

Loyola Law School, Los Angeles (J.D., 2013)
University of California, Los Angeles (B.A. in Philosophy, cum laude, college honors, 2008)
State Admissions

California, 2013
Federal Admissions

United States District Court, Central District of California
United States District Court, Eastern District of California
United States District Court, Northern District of California
United States District Court, Southern District of California
Languages

Georgian
Russian
Obtained summary judgment for a physical therapy clinic in a disability discrimination, harassment, retaliation, and wrongful termination case
Served as trial counsel and successfully defended a client at trial against claims of negligence
Represented a client in a successful appeal involving claims of quiet title, breach of contract, and fraud (Galvez v. Gallegos, No. B272398, 2017 WL 5623403, at *1 (Cal. Ct. App. Nov. 22, 2017) (unpublished))
Handled high-exposure easement matters between neighbors, several resulting in favorable settlements, including after filing motions for summary judgment
Represented an insurer in a high-profile recoupment action with exposure in the tens of millions of dollars
Obtained dismissal on demurrer for an insurer sued for breach of contract and the breach of the implied covenant of good faith and fair dealing
Obtained a favorable resolution on behalf of an escrow company sued for conversion and negligence by a party to an escrow transaction
Represented Meadow Rain Walker in Walker v. Porsche, Los Angeles Superior Court case no. BC596011, a wrongful death action seeking damages for the death of her father, movie star, Paul Walker IV. The case was resolved to the satisfaction of the parties
Successfully defended private retail employer against claims of Labor Code violations under the Labor Code Private Attorneys General Act
Obtained dismissal on demurrer of client sued for breach of contract and the breach of the implied covenant of good faith and fair dealing
Obtained favorable resolution on behalf of escrow company sued for conversion and negligence by party to the escrow transaction
Successfully defended title insurance company in sexual harassment, retaliation, and wrongful termination matter
Successfully defended private retail employer against class action claims of misclassification and Labor Code violations brought by an independent contractor and negotiated settlement of claims
Defended private healthcare employer against claims of disability discrimination and negotiated nuisance value settlement of claims following filing of motion for summary judgment
Represented a corporation and its employee in a strict liability lawsuit against government contractor obtaining a settlement of $3,085,000 in favor of the clients
Speaking Engagements
"State of the Law: Legal Insights into Independent Counsel Appointments," Tucker Ellis In-House Counsel Summit (October 2023)
"Avoiding Claims for Breach of Implied Covenant of Good Faith and Fair Dealing," Fidelity National Claims Center (September 2019)
"Selecting, Engaging, and Working with Appraisers in High Exposure Cases," Fidelity National Claims Center (March 2018 and March 2019)
"Was it Covered? What Courts Have Recently Ruled on Title Claims," Stewart Title of California, Inc. (December 2017)
Publications
Los Angeles County Bar Association

Co-Chair, Title Insurance Sub-Section

Tucker Ellis Women's Initiative
Georgian Cultural and Educational Center of Southern California, Board of Advisors