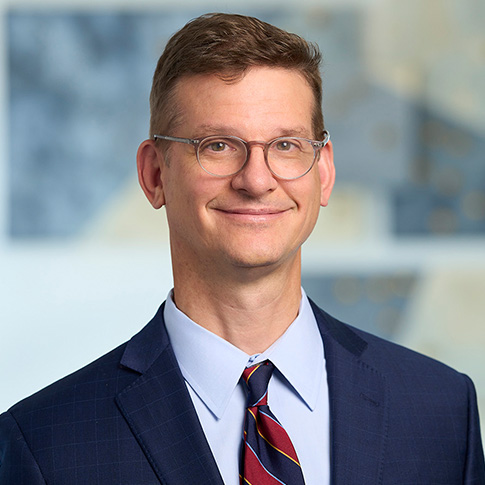 Joseph P. Koncelik
Position

Partner

Locations
Joseph Koncelik, chair of the Tucker Ellis Environmental and Renewable Energy Group, has more than two decades of experience practicing in the areas of environmental law, property development and remediation, and oil and gas.
Joe has 12 years of government regulatory experience gained as Ohio EPA director and chief legal counsel under Governor Taft's administration and as an assistant attorney general in the Environmental Enforcement Section. Joe uses this unique background to help clients efficiently navigate complex issues and governmental agency administrative processes to cost-effectively reach their goals.
Joe has significant experience in resolving a range of challenging and complex state and federal environmental issues. He has been involved in environmental due diligence associated with significant business transactions and more than 200 different properties. Joe is passionate about brownfield redevelopment and property remediation. He has advised clients on complex projects and helped to secure more than $15 million in brownfield grants and other financial assistance.
Joe provides counsel, advice, and guidance to clients in all facets of Ohio and federal environmental law and related compliance issues. His areas of expertise include: air emissions, wastewater discharges, hazardous and solid waste management, construction and demolition debris, and wetlands. Joe has assisted clients in defending against U.S. EPA, Ohio EPA, and Ohio Department of Natural Resources enforcement actions, including defense of criminal investigations/actions. He has assisted clients in complex permitting issues and disputes, such as wetlands/stream impacts, air emissions, and NPDES discharge permits. Joe's clients include manufacturers, construction companies, municipalities, real estate developers, and waste management companies.
A board member of the Greater Ohio Policy Center (GOPC), Joe proposed the concept of sponsoring a bill through which the State of Ohio would adopt the federal Bona Fide Purchaser Defense (BFPD). After GOPC found a sponsor for the bill, Joe worked with the Legislative Service Commission to draft the language and worked with numerous stakeholders to resolve questions related to the bill. The passage of Ohio H.B. 168 in 2020 represents more than two years of work by Joe, GOPC, and the State legislature to fill the gap in Ohio law, resulting in a significant reduction in cost and time to clean up environmental contamination on commercial/industrial property.
A native of Columbus, Ohio, Joe has been a resident of Northeast Ohio for the past 10 years. He lives in Westlake with his wife and three sons.
Education

The Ohio State University College of Law (J.D., 1993)
The Ohio State University (B.S., cum laude, with honors and distinction, 1990); Phi Beta Kappa
State Admissions

Ohio, 1993
Service Areas
Industries Represented

Chemical
Food Manufacturing
Manufacturing
Oil & Gas
Plastics & Rubber
Real Estate
Represents a manufacturer in defense of a complex CERCLA contribution action that includes multiple parties and experts in federal court involving an unlicensed landfill
Advised a variety of clients with regard to brownfield redevelopment projects, including securing federal, state, and local brownfield grants and loans
Represents a major steel manufacturer in litigation against the Army Corps of Engineers to require immediate dredging and proper disposal of sediment
Represented an oil and gas wastewater hauler in defending a criminal investigation for illegal dumping
Represented an environmental laboratory in an internal investigation of potential falsification of records
Represents a major oil and gas exploration and production company with regard to environmental compliance and water rights issues
Assists a major construction company with more than 30 facilities across the U.S. with regard to environmental compliance issues, including air permitting, stormwater, hazardous waste storage and transport, and due diligence
Provided legal counsel on air, water, and waste permitting and regulatory compliance associated with siting a clean coal treatment facility
Represented a food packaging manufacturer in complex litigation involving an administrative appeal of a major New Source Review (NSR) Clean Air Act permit
Represented a metal treatment company in the litigation and defense of an RCRA enforcement action involving multiple facilities
Represented municipalities in a federal enforcement action regarding regulation of combined and sanitary sewer overflows (CSOs/SSOs) under the Clean Water Act
Assisted a major developer in compliance with Army Corps and Ohio EPA wetland and stream permitting under Section 404/401 of the Clean Water Act
Publications
Speaking Engagements
"East Palestine Train Derailment: Effectively Advising Clients When a Major Environmental Emergency Occurs," Webinar, ABA Section of Environment, Energy, and Resources (August 2023)
"Waters of the U.S.: Ongoing Controversy over the Limits of Federal Authority under the Clean Water Act," 32nd Annual Conference on Air, RCRA & Water Permits, Columbus, Ohio (July 2023)
"Ask an Expert!", 2023 Ohio Brownfields Conference, Columbus, Ohio (May 2023)
"Brownfield Remediation & Redevelopment," Home Builders Association of Greater Cleveland Developers' Council (September 2022)
"Mapping PFAS: Tracing Legal and Policy Issues & Trends," Environmental Law Institute/TRC Companies Webinar (March 2022)
"You're All Wet: Major Federal and State Changes to Stream and Wetland Permitting," 42nd Annual Real Estate Law Institute, Cleveland Metropolitan Bar Association (November 2020)
"How to Navigate the New Federal Navigable Waters Protection Rule," How-To Webinar Series, HalfMoon Education Online Learning (October 2020)
"An Overview of H.B. 168 and the BFPD," Ohio Economic Development Association, Greater Ohio Policy Center webinar (July 2020)
"Environmental Attorney's Perspective: Clients' Problems and Litigation Topics," H2Ohio: Understanding Ohio's Water Quality Issues, Columbus, Ohio (November 2019)
"Environmental Due Diligence: Top Five Mistakes and Misconceptions," Tucker Ellis Commercial & Industrial Property Real Estate Forum, Cleveland, Ohio (September 2019)
"Financing Brownfields Clean-Up and Build-Up," CDFA Ohio Conference, Dublin, Ohio (September 2018)
"Brownfields Revitalization Workshop," Ohio Environmental Protection Agency, Zanesville, Ohio (June 2018)
"Placing Your Bets on New Environmental Policy and Tax Reform," Northfield, Ohio (May 2018)
"'Trumped' Up Changes to Wetland and Stream Permits," 39th Annual Real Estate Law Institute, Cleveland Metropolitan Bar Association, Cleveland, Ohio (November 2017)
"Marijuana and Ohio Businesses: Anticipation and Confusion at an All-Time 'High,'" 2017 In-House Counsel Summit, Tucker Ellis LLP, Cleveland, Ohio (October 2017)
"Brownfields Funding Workshop," Keynote Speaker, Ohio Environmental Protection Agency, Mount Vernon, Ohio (September 2017)
"Ohio's Brownfields: Catalysts for Neighborhood Rebirth," Greater Ohio Policy Center, 2017 Summit, Columbus, Ohio (March 2017)
"Minimizing Environmental Liabilities in Real Property Transactions" and "Negotiating and Drafting Key Environmental Contractual Provisions," Environmental Liabilities in Real Estate Transactions, National Business Institute, Mansfield, Ohio (December 2016)
"The New Environmental Regulatory Climate," 2016 In-House Counsel Summit, Tucker Ellis LLP, Cleveland, Ohio (October 2016)
"New and Emerging Water Management Issues in an Era of Increased & Ever-Changing Water Quality Standards: Major Water Developments Impacting Ohio Businesses, Manufacturers & Other Industrial Operations," 26th Annual Conference on Air & Water Permits, Columbus, Ohio (July 2016)
"The Future of Ohio Brownfield Redevelopment – Lessons Learned and New Directions," Ohio Brownfield Conference 2016, Columbus, Ohio (April 2016)
"Hot Topics in Environmental Law for Municipalities," Annual President's Day Seminar & Municipal Law Update, Cleveland Metropolitan Bar Association (February 2016)
"Understanding Riparian Water Rights, Access to Water and Wetland Regulations," HalfMoon Education, Inc. (December 2015)
"State and Federal Site Contamination Law (Regulatory Requirements and Brownfield Redevelopment)," HalfMoon Education, Inc. (December 2015)
"Environmental Due Diligence (Phase I, Phase II and Bona Fide Purchaser Defense)," CMBA Real Estate Law Institute (November 2015)
"Environmental Covenants in Real Estate Transactions: Minimizing Exposure Risk to Contamination," Strafford webinar (September 2015)
"Environmental Audits: Navigating E-Disclosure, Privilege, Voluntary Disclosure and Other Issues," Strafford webinar (July 2015)
"Hot Topics in Environmental Law Impacting Shopping Center Developers, Owners, Managers and Tenants," International Council of Shopping Centers Ohio, Kentucky, Indiana, Michigan & Pennsylvania Retail Development & Law Symposium, Columbus, Ohio (February 2015)
"Brownfield Redevelopment Legal Strategies," Ohio Brownfields Conference (April 2014)
"Ohio Water Law Update," Keynote Presentation, Manufacturers' Education Council (July 2013)
"Regulatory Update – Latest Regulatory Initiatives in Climate Change, Cleanup Standards, Definition of Solid Waste, Air Regulations for Boilers," Environmental Regulatory Update for Engineers and Surveyors (October 2011)
"Insurance Coverage Disputes Involving Environmental Claims," Lexvid webinar (October 2011)
Media
"Euclid Has High Hopes for Redevelopment of Longtime GE Factory Site," Crain's Cleveland Business (April 2023)
"Frenemies U.S. EPA and Ohio EPA Team Up on Rail Cleanup," E&E News (March 2023)
"Port Authority Accepts Former Republic, RG Land," Tribune Chronicle (May 2021)
"Ohio Has a Lot of Abandoned Factories; Two State Lawmakers Want the State to Pay to Clean Them Up," The Columbus Dispatch (May 2021)
"Bill Exempting Developers From Cleanup Fees Passes Ohio House," Bloomberg Environment & Energy Report (May 2019)
"Long View is Working for City's Land Bank," Crain's Cleveland Business (September 2016)
"Northeast Ohio's Leaders Break Out Their Crystal Balls," Crain's Cleveland Business (January 2016)
"Obama's Climate Change Goals Face Uphill Legal Battles," WKSU (September 2015)
"OEPA, Lawmakers Contemplate Response to Supreme Court Ruling on Water Quality," Gongwer (April 2015)
"Ohio Supreme Court Ruling is Costly Setback for Ohio EPA," WKSU (March 2015)
"Businesses Say Public Finance Programs Not Dependable," Crain's Cleveland Business (June 2012)
"Future of Ohio Cleanup Program Uncertain," Akron Beacon Journal (March 2012)
"Ex-Ohio EPA Director Talks about Proposed Smog Regulation," Inside Counsel (April 2010)
The Best Lawyers in America® (2013–2024)
American Bar Association

Section of Environment, Energy, and Resources

Ohio State Bar Association

Environmental Law Subcommittee

Cleveland Metropolitan Bar Association

Environmental Law Subcommittee

Ohio Chamber of Commerce, Environmental Subcommittee
Greater Ohio Policy Center, Board Member